Just to amuse you.
Just to amaze you.
Zealot F PRO vs. Zealot X PRO
2 Million Pixels. HD. Wide-angle Lens.
With a 2 megapixel / 120 degree wide HD camera, the Zealot X offers outstanding picture quality. For better picture quality, you can insert a micro SD card into the camera and take a picture or video through the application.
Auto hovering mode is now one of the most common functions of introductory drones. With Zealot X's ability to take-off and land automatically, it has become much easier for its users to control. Not only that, its barometer equipment also makes it possible to maintain its altitude.
Zealot X supports both modes, allowing beginners to be adapted to both.
There is no need to be concerned about the direction where the head of the drone is heading to.
Don't be confused!
With headless mode, you can control your drone according to your body's direction.
Drone Control with Application
Can't find where the RC is?
No problem. Just turn Zealot X on and connect your smartphone's Wi-Fi to Zealot X's Wi-Fi. With Zealot X Application on, you can freely control your Zealot X in the way you want.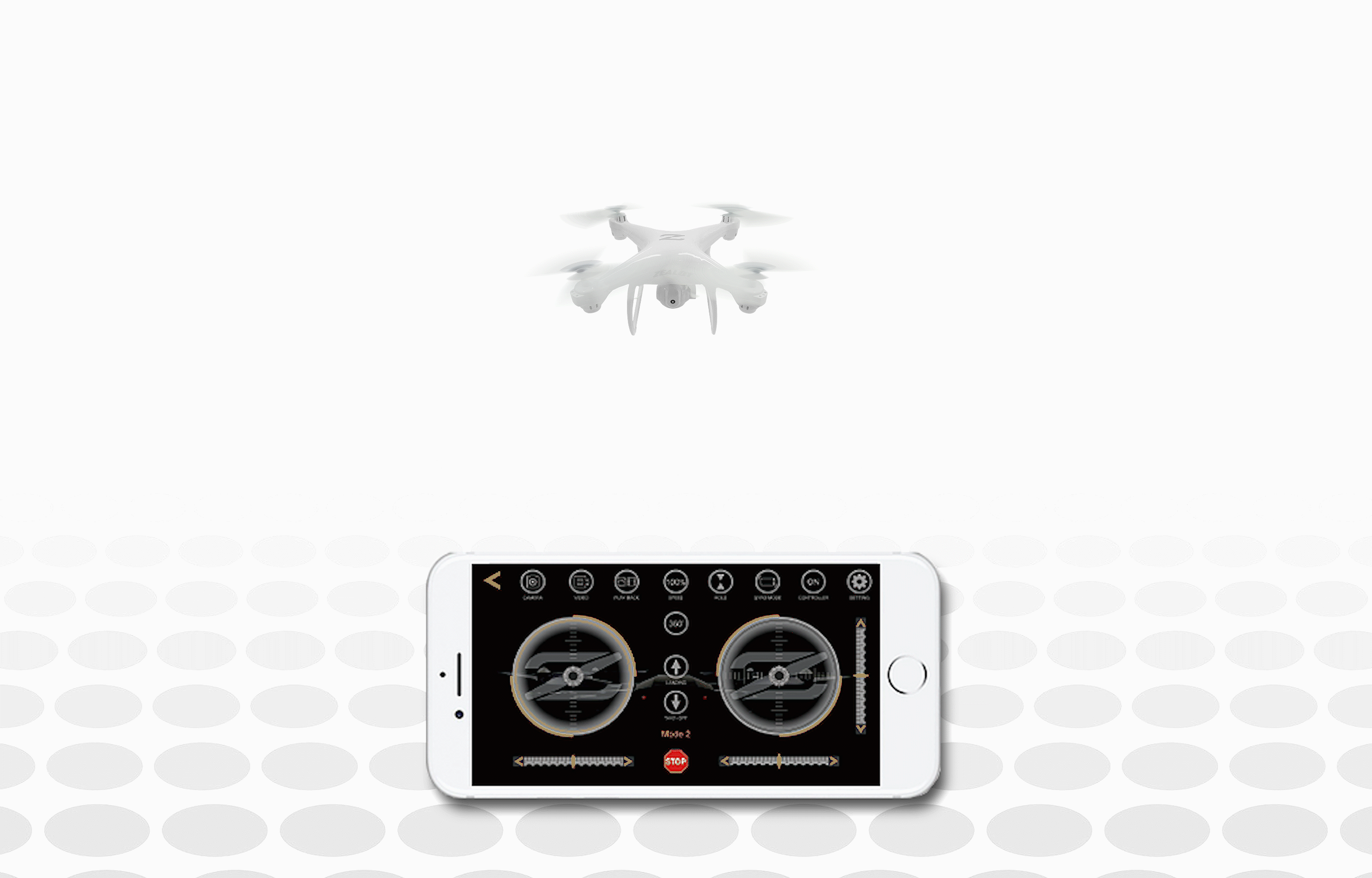 Try tiling your phone. Surprising, isn't it?
As you tilt your phone forward / backward / left / right, your Zealot X will follow tilting in the angle of your phone.
Zealot X also supports VR mode! Enjoy a thrilling flight realistically!
Speed Control (Sports Mode)
You can control Zealot X at the speed you prefer.
There are three levels of speed in total and you can choose any speed you want.
Do a 360-degree flip with Zealot X even if you are just a beginner!
Just press the flip button on the RC and you'll be amazed!
Now Track Route function is applied to a low-cost introductory drone too! There is no need to spend your whole budget to buy a super-costly drone.
Command your Zealot X and it will follow your words! Commands Zealot X can understand are the following: Forward, Back up, left side, right side, go up, go down.
In an emergency situation, press 'Stop', and your Zealot X will immediately fall down, losing its control.
Remember, this function is for emergency situation only so use it only when it's urgent.
​
ZEALOT-X PRO SPECIFICATION
Product Name
​
Frequency
​
Gyro
​
Dimension
​
​
Weight
​
Flight Distance
​
​
Flight Duration
​
​
Charging Time
​
​
Battery
​
Propeller Guard
​
Motor
​
RC Mode
​
Camera
​
Resolution
​
Wi-Fi
​
Application Support
Zealot-X PRO
​
2.4GHz
​
6-axis gyro
​
325 x 325 x 120 mm (When
propeller is unfolded)
​
156g
​
Approx. 50m (Depends on
surrounding environment)
​
Approx. 6 min. (Depends on
flight style)
​
Approx. 50 min. (Depends on
remaining battery life)
​
Li-Po 650mAh battery
​
Included
​
Coreless motor
​
Mode 1 & 2 supported
​
2 million pixels / 120˚ FOV camera (AD, PRO)
​
Image: 2560 x 1440 / Video: 1280 x 720
​
Wi-Fi supported
​
Application control